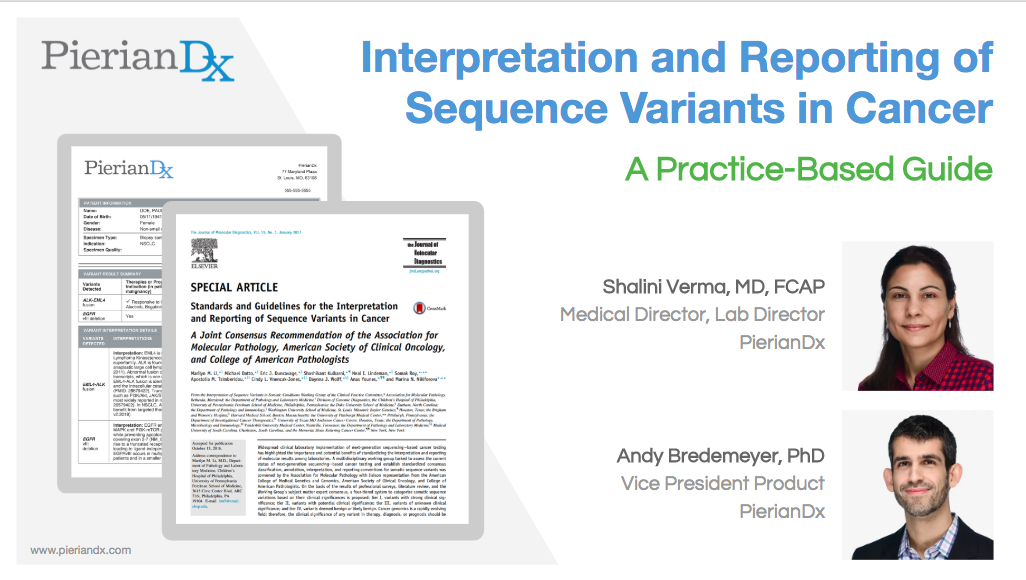 A Practice-based Guide to Interpretation and Reporting of Sequence Variants in Cancer
Broader adoption of next-generation sequencing-based cancer testing reveals the challenges associated with variant interpretation and underscores the need to standardize results across molecular pathology labs. Guidelines developed by the Association for Molecular Pathology (AMP) with representation from key institutions, including ACMG, outline a system to categorize sequence variations in cancer.
Join us for a webinar on July 19 at 12:00 PM Eastern Time as Shalini Verma, MD, FCAP and Andy Bredemeyer, PhD, both from PierianDx, discuss the recent guidelines and apply them to real-life examples.
In this webinar you will learn:
Guidelines for

interpretation and reporting

.

What public databases are available, their limitations, and how data from each are compiled.
More about the process for identifying and annotating variants and proposed guidelines for evidence-based classification of somatic variants.